Model Health Care utilizes and specializes in our AccuPac system. What this means to your facility is there is no reordering of routine medications. Our medications are automatically cycled and inspected before being shipped out to their respective facilities. Another great feature is that, since the strip packaging is sealed, you can drastically reduce your drug waste and only be billed for what you use by returning unused strips to us.
How your long-term care facility benefits:
Complete unit-dose compliance packaging system that is electronically verified by InspectRx
24hr Strip Packaging
Automatic 7-Day Cycle – No reordering of routine meds
Improves patient compliance
Reduced drug waste
Facility only gets billed for what they use
Medication container with medications can be discharged home with patients
Prescribed and OTC medication are together in their correct doses
Packaging clearly states time of day medication is to be taken, for medical treatment consistency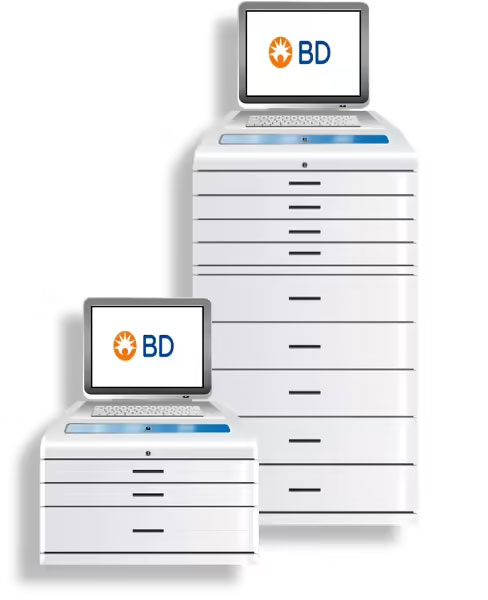 BD Pyxis™ MedBank Tower
Automated Medication Dispensing Solutions

Medication at your Finger Tips
The BD Pyxis™ MedBank Tower provides a user-friendly interface for storing and accessing your medications. Featuring Bio-ID fingerprint identification, you can be assured that all of the necessary precautions are taken to maintain privacy while maintaining an organized space!
Features
Medication Safeguards
When using CUBIE™ pockets, you get single med access, fingerprint ID, countback, and witness features.
Remote Software Updates and Upgrades
Using the Auto-Upgrader feature, you can remotely program and update software.
Inventory Management
Purchase orders are configured to run automatically on a predefined schedule based on maximum and minimum levels.
Diversion Management
When a new discrepancy is discovered, you will receive automatic discrepancy reports, visual messaging, and auditory alerts.
Electronic Logbook
An electronic inventory management system and reporting makes historical data enquiries simpler.